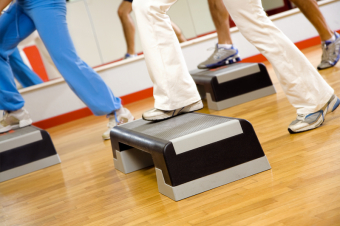 GLA:DTM Canada is a program at the forefront of therapy for helping people manage their own symptoms related to stiff and/or painful hips or knees and for those with hip/knee osteoarthritis. At Striowski & Associates Physiotherapy we have extensive experience helping patients manage issues related to hip/knee osteoarthritis through 1-on-1 care, including working closely with orthopaedic surgeons. For several years now we've also been offering the GLA:DTM Canada program to provide another option and further improve patient education and outcomes without surgery.
What is the GLA:DTM Canada program?
The GLA:DTM Canada program is an education and exercise program originally developed in Denmark. It involves 2 weekly education sessions and 12 exercise sessions twice a week over 6 weeks. Our sessions are supervised by physiotherapists certified in delivering the program. Over the course of the program, you'll learn how to self-manage your symptoms, move the right way, as well as build strength through exercise.
Research shows that people who have completed the GLA:D® program:
have reduced pain
take fewer pain killers
take less time off work
are able to be more active
Having run many GLA:DTM Canada sessions, we've personally seen the results! Patients that have taken our program have reported increased energy levels, less pain in their joints, better mobility and functional strength. They have a better understanding of how to manage their osteoarthritis diagnosis. They're no longer afraid to exercise and realize that physical activity is better than being inactive because as the saying goes, "Motion is lotion." Our patients also enjoy the education sessions along with the group dynamics, while receiving individual attention to do the exercises properly and within their own abilities.
Why participate in our GLA:DTM Canada program?
You may have visited a doctor for hip and/or knee pain and were diagnosed with osteoarthritis. You may have also been told that surgery wasn't an option for you, either because your problem isn't bad enough yet or perhaps because of the risks involved specific to your situation. Now what? Although medication can help manage the symptoms, it's widely recognized that exercise can manage these symptoms more effectively. Even if you're a candidate for surgery, by participating in the program you'll learn the majority of exercises you would have to do as a part of your rehabilitation following surgery and this can be your 'prehab' program.
Our patients are closely supervised and taught by Denise MacKinnon, a physiotherapist with over 25 years of experience or Aaron Cheung, a physiotherapist with extensive training in orthopaedic physiotherapy. Most importantly, at Striowski & Associates Physiotherapy we keep our ratio of physiotherapist to patients in our GLA:DTM Canada program very low to ensure the highest level of care and attention. Learning about osteoarthritis in the education sessions and understanding how to do the exercises properly in a small group makes the program effective and fun! We've even had patients ask if they could continue to come after the program had finished because they found it so helpful!
If you or someone you know has hip or knee osteoarthritis and wants to move and feel better, please feel free to email info@striowskiphysio.com or call 416.490.0449 and we can provide you with more detailed information on our GLA:DTM Canada program in North York. To learn more about the specifics of how the program works, you can also visit the GLA:D Canada website. Our team of physiotherapists at Leslie and Sheppard in North York are also available to do a free 10-minute phone or video consultation to see if we can help.

Denise MacKinnon
Physiotherapist, BScPT
Contact Me