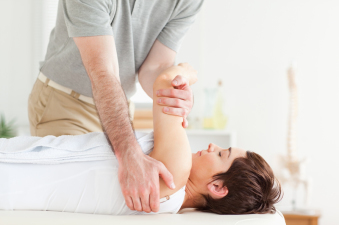 What is Manual and Manipulative Physiotherapy?
Physiotherapists with manual and manipulative therapy training use 'hands-on' treatment to help restore joint range of motion, soft tissue mobility, muscle function, nerve mobility and to reduce pain. Treatment techniques may include joint mobilization or manipulation and soft tissue mobilization techniques. A comprehensive manual physiotherapy approach always involves biomechanical analysis and exercise prescription to augment/maintain the gains made during treatment sessions.
Manual therapy techniques include: joint mobilization/manipulation, myofascial release, soft tissue release, instrument assisted soft tissue mobilization (IASTM), strain-counter strain, muscle energy technique, neural (nerve) mobilization and the Mulligan concept, amongst others.
Striowski & Associates Physiotherapy is well established as a clinic with long-standing expertise in manual and manipulative physiotherapy in North York. As Fellows of the Canadian Academy of Physiotherapy, several of our physiotherapists teach and/or act as mentors in the Canadian Physiotherapy Association's post-graduate Advanced Integrated Musculoskeletal (AIM) physiotherapy program.